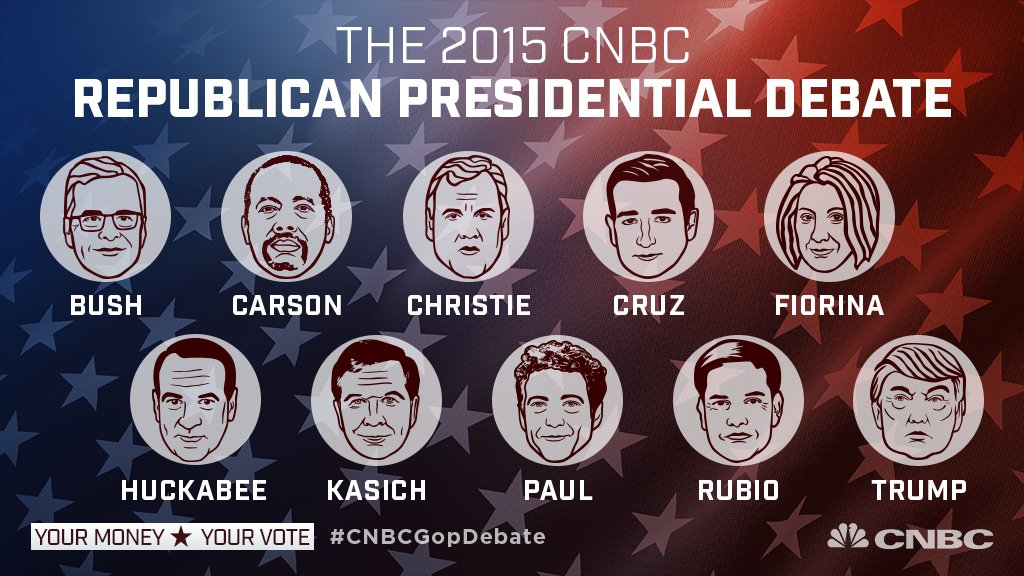 Feedback regarding last night's GOP debate is rolling like a Category 5 Tornado. From Jeb Bush's debate ineptitude, through Ben Carsons

lies

regarding 

serving as a spokesperson

 and ending in Donald Trumps standard and unchanging rant, the venue unfolded as expected.  Ted Cruz was the "media basher" of the event while Rand Paul again seemed lost in a field of weeds (not related to  Colorado Weed).   
Of all feedback, I am finding the almost universal condemnation of the CNBC moderator panel the most interesting.
I offer a few pieces from my Facebook feed If the links don't interest you skip to the Mediaite piece embed below. 
Feedback must include a quick peep at talking time per candidate.
VOX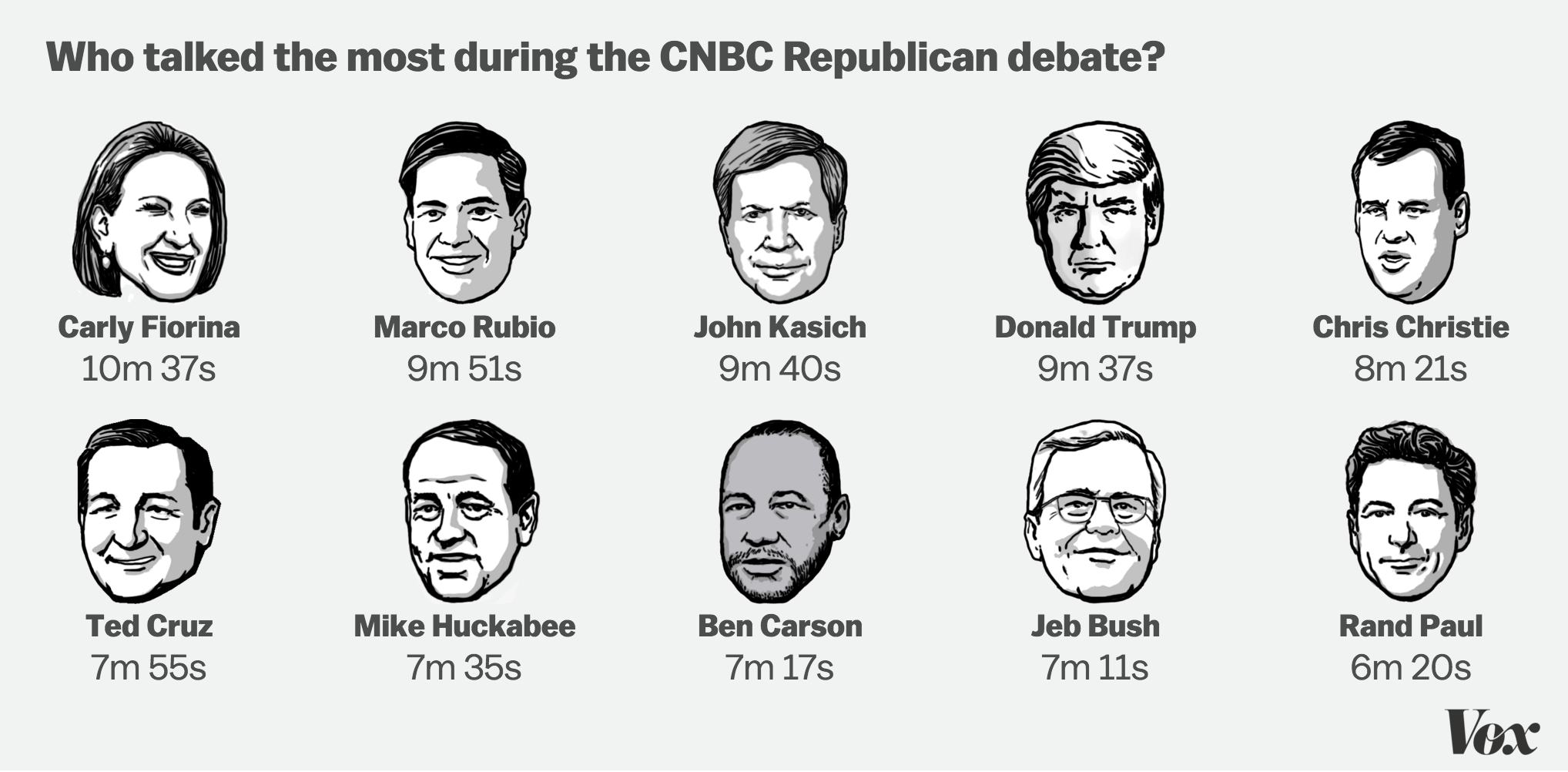 CNBC published a

piece

  (w/video) referred to via headline as "The Fact Patrol" reports for duty. The Fact Patrols performance seems to nave far exceeded hat of its moderation team.
A perspective on what seemed to be the worse debate coverage I have ever witnessed. from the setup of the Second tier, first debate through what eve I recognized as a late debate lie from moderator Harwood regarding the intended length of the debate. 
Mediaite

published a piece regarding Harwood's moderation. Someone should openly speak about the unbelievable and incoherent chatty and between debate interaction on the CNBC set.
Mediaite
Excerpt
I had to watch it again.

I had to make sure I witnessed what I just witnessed.

And upon absorbing the whole thing and double checking my notes from watching last night and again this morning before sunrise, they were practically identical. Conclusion: CNBC, a solid niche network with solid talent, just performed the worst moderation of any debate — and we're including all presidential, vice presidential, fictional… the one fromOld School (Will Ferrell's Frank the Tank vs. James Carville moderated by Jeremy Piven's Dean Pritcher), the one from Clueless (Alicia Silverstone vs Amber on the plight of Haitian refugees) — in American history.

So who's to blame? Here's your Top 3 culprits:

1) Gold — John Harwood. I was foolish enough to believe that Harwood, who doesn't hide his biases leftward, would be professional and (more importantly) aware enough of being on the biggest stage of his career to ask substantive questions without editorial. First question out of the gate? Dubbing the GOP frontrunner's (RCP average) candidacy as fiction, as right out of a "comic book." That set the tone for the entire evening, and most of the candidates on stage sensed what was happening. Ted Cruz, who tied winning this debate with Marco Rubio, seized the opportunity with this haymaker:
"Let me say something at the outset," said Cruz. "The questions that you have asked so far in this debate illustrate why the American people do not trust the media."This is not a cage match," he said. 
"And if you look at the questions: Donald Trump, are you a comic book villain? Ben Carson, can you do math. John Kasich, will you insult two people over here. Jeb Bush, why have your numbers fallen? How about talking about the substantive issues people care about."
I've never been one to reflexively use the term "liberal mainstream media" anywhere–TV, radio, columns. It's a beaten-down term that sometimes has some weight (via a specific hard example) behind it, but oftentimes doesn't (via reaching to connect the dots around conspiracy theories). And it's used so often that the impact gets lost (Google any instance the term "liberal mainstream media" has been used in this space, win valuable prizes). But last night wasn't one of those times where Republicans and conservative media were whining without warrant for being treated different than their Democratic counterparts. They were treated differently. Blatantly. At two points Harwood outright lied (yes… lied… these weren't cases of simply misstating the facts).
Read more at Mediaite
We will post more as more comes along.