MSNBC's Steve Benen start his news day off with a review of and reminder of US job growth.
The nation ended the year with what some are calling a "cork popping" jobs picture. Benen runs with a 

piece

 from which I extracted a few tidbits.
Many economists predicted the U.S. job market would end 2015 on a strong note, but few expected it to be 

this

 strong.




The Bureau of Labor Statistics 

reported

 this morning that the U.S. economy added 292,000 jobs in December, well above projections. The overall unemployment rate remained at 5.0%, which is still the lowest it's been since February 2008, nearly eight years ago.

 
Making matters even better, the revisions were also heartening: October's job totals were revised up, from 298,000 to 307,000, while November's totals were also revised up, from 211,000 to 252,000. Combined, that's an additional 50,000 previously unreported jobs.
Benen's continuing look at Private Sector Job Growth:
In a later post, Benen took his review here:
It is truly amazing any sane American would actually consider voting GOP in the coming General Election when faced with jobs reports as such.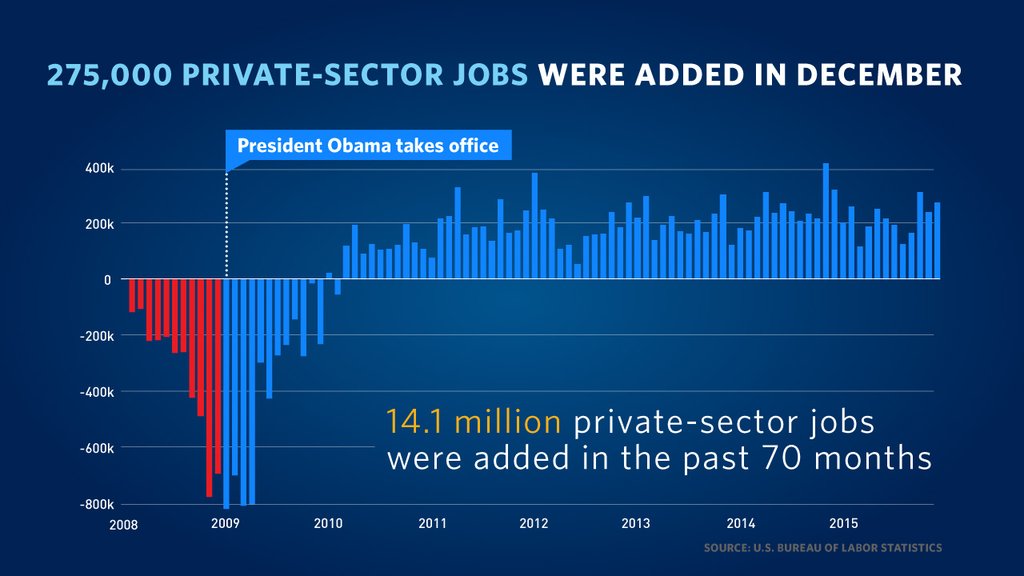 As you worked your way through the jobs graphics, you thoughts probably reached to the common naysayer points that follow each and every positive jobs report.
Business Insider provided the naysayer platform this month. We certainly do not dismiss the following economic considerations, but we do consider the glass half full notion of what the naysayers would say with jobs reports as indicated via the red bars in the White House chart (above). 
I offer the very unqualified posit that as long as American executives (CEOs. management teams et al) are so handsomely remunerated, in some cases regardless of company performance, Participation Rates and Wage Growth will remain stagnate.
Since we started this piece with a review of December job growth, we will end with a link to a piece that drives home our point about voting GOP. Linked here.
And,a final slice of the Jobs "cake" from Bloomberg. Linked here.